So, we did this whirlwind trip for New Years. A friend from high school was getting married 6 hours away from where we live. Because we live in California it is not that odd to drive that far to go to a wedding. (Note that a plane ticket from our small-ass town would cost approximately $400/person to fly 350 miles. Screw that. So we drove.)
Anyway, we drove to Sacramento (or Sacratomato, my name for it since I was a kid). I was tootling on down the road at 85 mph just inside the city limits when I saw a freeway sign. It said things like "Placerville x miles", "South Lake Tahoe x + 100 miles", and then the kicker: Ocean City, MD 3037 miles. I looked at M and said "What the fuck? Ocean City?"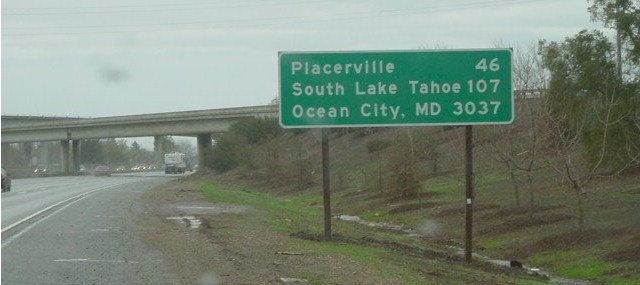 I must digress. See, we met while we were living in Washington DC and early in our relationship, we had an ill-fated trip to Ocean City one August weekend. We stupidly drove out there without a hotel room for a fun weekend. We looked around a bit and visited a friend of mine who had a condo there. He wasn't offering for us to stay with him, so we went out for dinner/drinks and took off to find a room. It turns out that everyone and their uncle decided to go to Ocean City that weekend and there was not a room to be had in a 90 mile radius. WE DROVE TO DELAWARE, PEOPLE.* The nearest room available was in Annapolis. So we dejectedly drove home at 2 am, arriving around 3:30, vowing that we would NEVER do that again.


End digression.

Pretty bizarre, eh? Well, if you go to this website it tells us that Sacramento is the western-most point on Highway 50, which connects (who guessed it?) Ocean City, MD with said city.
Wasn't that exciting? I thought so.

On to other, even more exciting things. The wedding sucked. This was one of my really good friends from high school and we've obviously grown apart over the last 12 years or so. But--and this is where my Catholic guilt kicks in-- nothing trumps weddings and funerals; you just gotta go. I dragged the husband up there and there is no one there from my hometown, even though the bride had told me there would be a "contingent".

Does not "contingent" mean more than me and my husband (the latter of whom is not, technically, even from this country)???


We sit down at our assigned table and see that it is completely empty, even though the other tables were filling up. We go get some hors d'oeuvres and whaddya know, we sit down and see that there are 3 more place cards at our cozy table for 10. I see the bride talking to these 70-80 year old people while looking right at us. Yep. Those were our tablemates. I looked at M and said, "Screw this. We're going to spend New Year's Eve with my sister, who is spending it alone, rather than sitting here with people we don't know. Not to mention that we were placed at the "left-over table".** 5 people at a 10 top. Pshaw. And we gave them Riedel Martini glasses for a gift. Sigh.

At about 8:45 p.m., we drove back to the Bay Area at lightning speed. Arrived around 10 p.m., drank Australian merlot and Napa champagne, ate kettle corn, and watched Batman Begins with my sister while she railed that her internet didn't work so she couldn't send an email to her Australian boyfriend. It was awesome. Or at least way more awesome than that wedding would have been.

*
I actually liked Delaware (Rehoboth) and would've stayed there, if a room had been free.

**I spoke to the bride before we left, talking about how M wasn't feeling well and "so sorry we must go." She said she was surprised we had made it and asked if we had been spending time at my parent's place, which is only 2 hours away (apparently the only reason she could think of for us attending the wedding). I didn't say anything; I didn't have the heart to tell her we drove 6.5 hours just to go to her wedding.